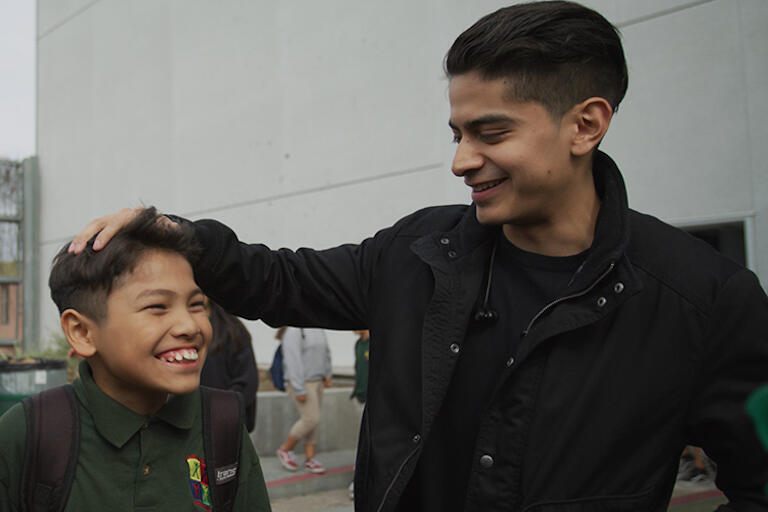 UC Berkeley's NavCal program has transformed the lives of nontraditional students by helping them navigate campus and encouraging them to give back to their communities. Student Andrew Mendoza is pictured here last year in East Los Angeles with youth he has mentored. He currently mentors newly admitted Berkeley students as a NavCal mentor. (
Photo courtesy of Para Los Niños
)
When he transferred to UC Berkeley last fall, Andrew Mendoza was intimidated. He said the sprawling 1,200-acre campus, with its emblematic Sather Gate, abundance of vast libraries and towering Campanile looked like "something you see in a Harry Potter movie."
But more than those iconic structures, he feared what they represented: spaces of privilege that felt foreign. Mendoza, then 24, was many of the things his fellow classmates were not — Latinx, first-generation, low-income and the first in his family to attend a four-year university.
"I just felt out of place," said Mendoza, who came to Berkeley from Pasadena City College on a Regents' and Chancellor's Scholarship. "For many nontraditional students in higher education, it feels like we're constantly pioneering in a foreign land where we don't know the language and don't have a legend to decipher it."
Mendoza feared many of the things more traditional and affluent students grasp with ease: visiting with prestigious professors during office hours, confidently seeking out research opportunities and feeling like they belong on campus.
Berkeley does offer help for students like Mendoza, but he found the process of accessing that help bureaucratic and extremely overwhelming. It was hard to reconcile his personal background with the specific way he needed to carry himself into these settings on campus.
He felt pressure to be someone he was not to fit into a mold that wasn't meant for him.
"It's a hidden curriculum, equivalent to academic code-switching, to fit a certain norm," Mendoza said.
But that changed when Mendoza found NavCal — short for Navigating the University of California, Berkeley — a course designed to teach nontraditional students this hidden curriculum about how to succeed at Berkeley and beyond.
NavCal was created by two Berkeleyans, Mac Hoang and Dean Tanioka, in August 2018. The pair, who were both students at the time, founded the credited class to help underrepresented students who may have grown up in the foster care system, are formerly incarcerated, low-income, first-generation, disabled or came from other nontraditional backgrounds.
"We wanted to even the playing field for students that come from our backgrounds, underrepresented students that don't come from wealth, and get no parental guidance," said Hoang, who graduated with a degree in Sociology in August. "We wanted to demystify the educational process and take back the opportunities that these specific student populations have been without for so long."
The program has become more important in recent years, as Berkeley's newly admitted classes have increasingly become more diverse
Hoang said nontraditional students contribute to that diversity, but they also often "fall through the cracks" in their first two semesters, since they are typically older than their 18-year-old counterparts and face different personal challenges. According to an American Council on Education report, nearly 66% of nontraditional college students in the nation do not graduate.
Since its inception, NavCal has boosted the success of students who have taken the course. It's helped more than 300 students so far find over $1 million in scholarships they otherwise might not have known about. NavCal students also hold a 3.6 average GPA.
Of the 70 students in the fall 2019 cohort, more than half landed a research position, two-thirds obtained new jobs, 68% won at least one scholarship or fellowship and 98% obtained at least one letter of recommendation by the end of the semester.
NavCal has also connected with a coalition of campus partners including the Sociology and Ethnic Studies departments, the Equity & Inclusion office, and the Centers for Educational Equity and Excellence.
"This program changed my life," said Mendoza, who currently has a 4.0 GPA and plans to graduate in 2022 with a degree in political science. "The lessons I've taken from NavCal have given me the confidence to flourish in any social setting I'm presented with, and the community of students and mentors has made this 1,200-acre campus become a lot more like home for me."
To read the full story please visit: